Nāgārjuna's Treatise on the Ten Bodhisattva Grounds
(English-Only Edition)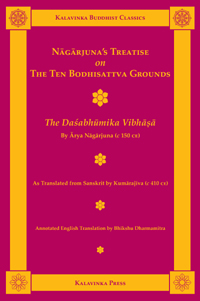 Nāgārjuna's Treatise on the Ten Bodhisattva Grounds
English-Only Edition
The Daśabhūmika Vibhāṣā
By Ārya Nāgārjuna (ca 2nd c.)

"Nāgārjuna's Treatise on the Ten Bodhisattva Grounds" is Bhikshu Dharmamitra's extensively annotated original translation of Ārya Nāgārjuna's "Daśabhūmika Vibhāṣā" rendered from Tripiṭaka Master Kumārajīva's circa 410 ce Sanskrit-to-Chinese translation. It consists of 35 chapters that explain the cultivation of the ten highest levels of bodhisattva practice leading to buddhahood, focusing almost exclusively on the first two of the ten bodhisattva grounds, "the Ground of Joyfulness" and "the Ground of Stainlessness." This is a work which has never been translated into English before.
This edition of the English translation includes: List of Abbreviations; General Table of Contents; Directory to Chapter Subsections (19-page, outlined); Endnotes (600+); Glossary; and Bibliography.
Review:
"What a rare and precious treasure a clear, readable, and accurate translation of Nāgārjuna's Treatise on the Ten Bodhisattva Grounds is! This treatise is found only in the Chinese canon, making its English translation especially precious for both Asian and Western Buddhists, since English is the common language at international Buddhist conferences and gatherings. Nāgārjuna addresses our innermost spiritual yearnings for truth and freedom and shows us the path to actualize them. The Treatise on the Ten Grounds explains how to generate bodhicitta-the aspiration for full awakening in order to benefit living beings most effectively-and how to practice its ten foremost qualities by emphasizing the first two-generosity and ethical conduct. He explains how to have a truly generous and compassionate heart toward others and how to express that in our lives through living a life free from harm and violence. In today's world learning how to restrain our negative impulses and live ethically is needed more than ever. Ethical conduct is our personal contribution to world peace, for the actions of even one individual can adversely or positively influence the lives of everyone on the planet. So many social issues of our day-poverty, oppression, war, and climate change to name a few-can be reversed by generosity and ethical conduct. Nāgārjuna's teachings are as important for the citizens of the planet now as they were for Buddhists centuries ago." -- Bhikshuni Thubten Chodron.
This is the "English-Only" edition. For the "Bilingual Chinese-English Edition," Click Here.
746 pages, paper, 6" x 9"
ISBN: 9781935413165
$28.95
Preview the Book via PDF Excerpts: Contents, Introduction / Chapter One
Purchase the book HERE (with free shipping) from Barnes & Noble,
Or Purchase the book from Amazon.com:
(Click here to go this book's page on Amazon.com)
Or, as a premium for a $10 donation, obtain the complete searchable, comment-enabled pdf ebook via PayPal.*
Just click this PayPal button to donate $10 via credit card transaction or Paypal account transaction.
After completing the donation, you will automatically be taken to the appropriate Kalavinka ebook download page.
(All of your personal and financial information is handled exclusively by PayPal and is never made available to this website.)
*Tax-deductible donations reimburse expenses incurred for numerous hardware & software upgrades, website hosting, and related KDA expenses. (Translation, book design, layout, and website design have all been provided gratis by Bhikshu Dharmamitra. Editing assistance and prepublication critical reviews have been provided gratis by individuals listed in the "Acknowledgments" page of each book.)