The Essentials of Buddhist Meditation
The Essentials for Practicing Calming-and-Insight & Dhyana Meditation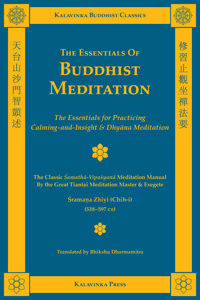 The Essentials of Buddhist Meditation
By Shramana Zhiyi (Chih-i) - (538-597 ce)
Master Zhiyi is the Tiantai Mountain meditation master, exegete, and teachings-school founder. His Essentials for Practicing Calming-and-Insight and Dhyana Meditation is a calming-and-insight (samatha-vipasyana) meditation manual deeply rooted in the early Indian Buddhist meditation tradition. It offers probably what is the most reliable, comprehensive, and practically-useful Buddhist meditation instruction currently available in English.
Translation by Bhikshu Dharmamitra. Includes facing-page source text in both traditional and simplified scripts.
(See the "Book Excerpt" links below for a complete description of the contents.)
236 pages, paper, 6" x 9"
ISBN 978-1-935413-00-4
$14.95
Preview the Book via PDF Excerpts: Contents, Outline, Introduction; The Traditional Prefaces & Two Chapters
Purchase the book:
From Amazon.com : (Click here to go to this book's page on Amazon.com.)
Or, as a premium for a $10 donation, obtain the complete searchable, comment-enabled pdf ebook via PayPal.*
After completing the donation, you will automatically be taken to the appropriate Kalavinka ebook download page.
(All of your personal and financial information is handled exclusively by PayPal and is never made available to this website.)
*Tax-deductible donations reimburse expenses incurred for numerous hardware & software upgrades, website hosting, and related KDA expenses. (Translation, book design, layout, and website design have all been provided gratis by Bhikshu Dharmamitra. Editing assistance and prepublication critical reviews have been provided gratis by individuals listed in the "Acknowledgments" page of each book.)