The Ten Bodhisattva Grounds
(English-Only Edition)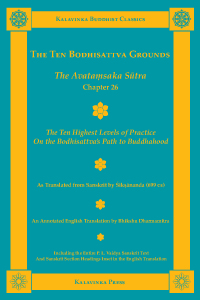 The Ten Bodhisattva Grounds
English-Only Edition

The Avatamsaka Sūtra, Chapter 26
"The Ten Bodhisattva Grounds" is an annotated English Translation by Bhikshu Dharmamitra of Tripitaka Master Śikṣānanda's circa 699 ce Sanskrit-to-Chinese translation of the Avataṃsaka Sūtra, Chapter 26. This text describes in great detail the ten highest levels of bodhisattva practice on the path to buddhahood as taught in that sutra.
This edition of the English translation includes: List of Abbreviations; General Table of Contents; Directory to Chapter Subsections (9 pages, closely outlined); Endnotes (275+); and Bibliography.
This otherwise "English-only" edition includes as an appendix the entire P. L. Vaidya Sanskrit text and the Sanskrit section headings are inset in the English translation to facilitate close comparative study and easy mutual correlation. For the "Trilingual Chinese-English-Sanskrit Edition," Click Here.
420 pages, paper, 6" x 9"
ISBN: 9781935413127
$20.95
Preview the Book via PDF Excerpts: Contents, Introduction / Chapter One
Purchase the book HERE (with free shipping) from Barnes & Noble,
Or purchase the book from Amazon.com:
(Click here to go this book's page on Amazon.com)
Or, as a premium for a $10 donation, obtain the complete searchable, comment-enabled pdf ebook via PayPal.*
Just click this PayPal button to donate $10 via credit card transaction or Paypal account transaction.
After completing the donation, you will automatically be taken to the appropriate Kalavinka ebook download page.
(All of your personal and financial information is handled exclusively by PayPal and is never made available to this website.)
*Tax-deductible donations reimburse expenses incurred for numerous hardware & software upgrades, website hosting, and related KDA expenses. (Translation, book design, layout, and website design have all been provided gratis by Bhikshu Dharmamitra. Editing assistance and prepublication critical reviews have been provided gratis by individuals listed in the "Acknowledgments" page of each book.)